Devoted to the finest production sporting rifle ever produced.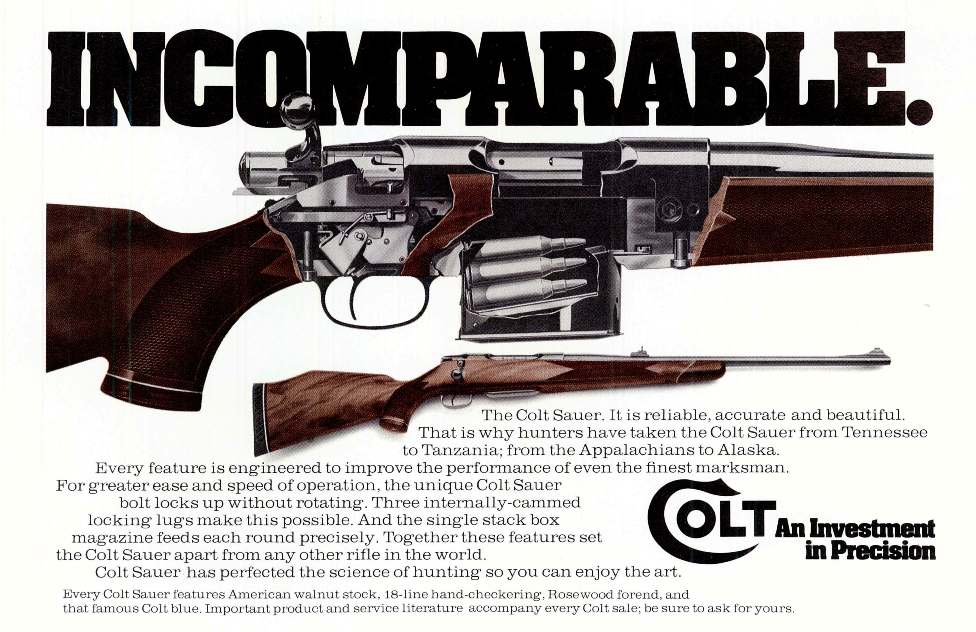 Hang in there through these trying, weird days we are all experiencing!

These are very unique rifles with the non-rotating bolt and many other unique design and engineering features.

Sauer produced this as a model 80 for European consumption and then continued this line of rifles (not marked with Colt) as the Sauer model 90 & 92 up through 2006 - the 90 & 92 used the identical action as the original but made some styling modifications to the stock and trigger guard areas and offered some other calibers and stock finishes as well.

Some basic information:

Total rifles produced: 27,189 - serial numbers from CR1000 - CR28189 from March 1973 - July 1984.

4 variants - Short action (22-250, 243 & 308) - Medium action (25-06, 270 & 30-06) - Magnum action (7mm, 300 Win, 300 Wby & 375 H&H) - Safari magnum in 458 Win only.

Rarity - 22-250 rarest in the short action - 25-06 in the medium action - 375 H&H in the magnum.

The above statistics are courtesy of the Sauer factory historian, Lothar Wiegand, as of the end of 2007 with the persistence of Tom in WY - Thanks Tom.

The 375 H&H model #R8010 is designated the Grand Alaskan but does not have its receiver rollmarked with the words "Grand Alaskan". The 458 receivers do say "Grand African" on the LH side just below Colt Sauer but, so far, the 375s all say "Sporting Rifle" - so if you happen to have a 375 that actually says Grand Alaskan would you send me a photo of it and tell me what your serial number is?

The consensus seems to be that there are NO receivers marked with "Grand Alaskan" as these are on the magnum length action that was shared with the 300 Win & Wby and 7mm Rem so they couldn't mark them ahead of time and only fit 375 barrels to them - the 458 was it's own variation and with only the one caliber they could rollmark the receiver "Grand African".

Colt said they sent the wood over to Sauer to control what type of wood was placed on the rifles.

Rates of twist are 1:10 for the 25-06, 270, 30-06 & 300 Win. mag. The 7mm has a 1:9.5" twist rate.

Another great question from Marc is are there any left handed Colt Sauers? There seem to be none that have shown their face so far.

Please let me know if you have or have seen any LH Colt Sauers (or any model 80 or 90/92 Sauers).

A popular question is "how do I get the bolt out"? - First: Make sure the rifle is UNLOADED - safety off - open bolt and pull back almost all the way - pull the trigger about twice as hard as normal and you should feel it travel a lot farther than normal - while holding the trigger go ahead and pull the bolt out the rest of the way - be careful not to hit the stock with the bottom portion of the bolt that sticks down a little. The little button on the bolt handle is there to let you open the bolt and safely unload it with the safety on but the trigger won't pull back if the safety is on to get the bolt out.

Email me if you are in need of a manual and I can send a PDF copy along.

Here is the web address to the Colt serial number lookup but be aware it only works up to CR18000 - https://www.colt.com/serial-lookup

Here are a couple of old items from Sascha Numssen at the Marketing Dept. at the current J.P. Sauer & Sohn who recently moved into their new facility!! - Thanks Sascha.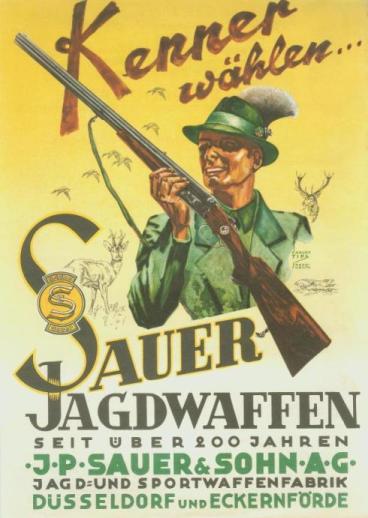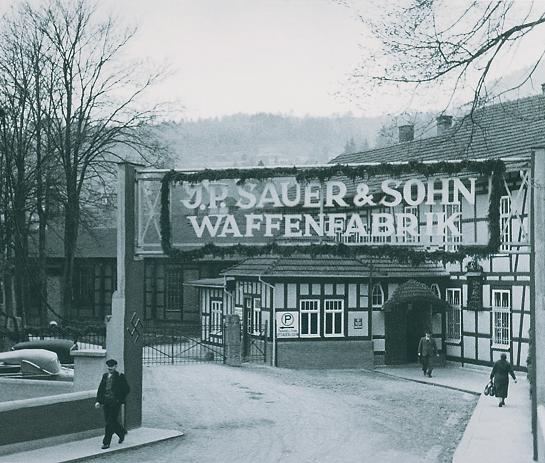 *********************************************************************************************************************************
Each caliber had its own model number:
Caliber Model
25-06 R8000
270 R8001
30-06 R8002
7mm R8003
300 Win R8004
458 R8005
22-250 R8006
243 R8007
308 R8008
300 Wby R8009
375 H&H R8010
Drillings:
12ga. x 12ga. x 30-06 is model R8015
12ga. x 12ga. x 243 is model R8016
I've been interested in and collected these fine rifles since 1976.
I'll be looking for any comments and stories and, of course, pictures anyone has on the topic of Colt Sauers and also the Colt Sharps single shot rifles.
Drop me a line when you can.
So far I've had some great replies and messages. Please keep them coming!!
Here is a 22-250 in the top picture, a 375 Grand Alaskan midway and a 458 Grand African on the bottom.


Below is a picture of all 11 magazine calibers - note the 458 is the same length as the magnum but has the extra little ramp built in.
The good thing is any given length magazine may fit in another rifle of the same action length - so a 25-06 cartridge should work fine in a 30-06 magazine because they are both for a medium length action. A 300 Weatherby Magnum won't work in the 300 Winchester Magnum magazine however - the shoulder is much longer.
Below are a grade 4 with game scene engraving and bottom of trigger guard and magazine - a grade 3 which has similar engraving but retains the Colt Sauer Sporting Rifle rollmark so it does not have the game scene. The 2 lower photos are of different engraving patterns on magazine bottoms.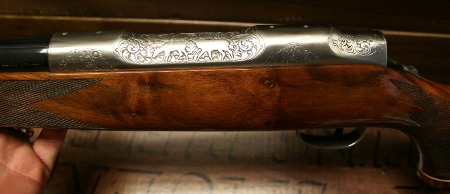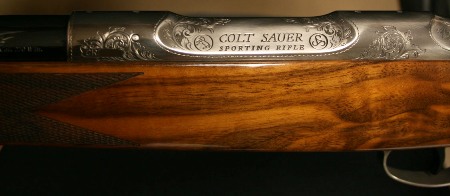 If you have any better pictures, please send them along and I'll try and post them (if you want me to).
I always have an interest in Colt Sauers - whether you have one or an entire collection - give me a shot at it - I am just a collector and not some giant corporation that needs to make big profits so I can probably equal or beat companies like Cabelas or if you were thinking going the auction route, here there's no auctioneer commission on the front end and no buyer's premium on the back end to knock down the amount you actually would receive. For an example, if your rifle sold for $1,500 at auction, the buyer pays $1,650 (10% buyer's premium, which is low these days) you would probably pay about 15% to the auction house so you net $1,275 that someone was actually willing to pay $1,650 for. Something to think about.
Also I'm always looking for boxes, mounts, parts, etc so if you have anything laying around collecting dust or need to part with drop me a line and let's see what we can work out. I also am always on the lookout for Colt Sharps rifles or parts so please contact me before you fire sale it to someone - I (usually) have cash available.
I do have a few extra magazines and scope bases available from time to time as well.
Thanks for looking.
Brian Kelly
September 13, 2022